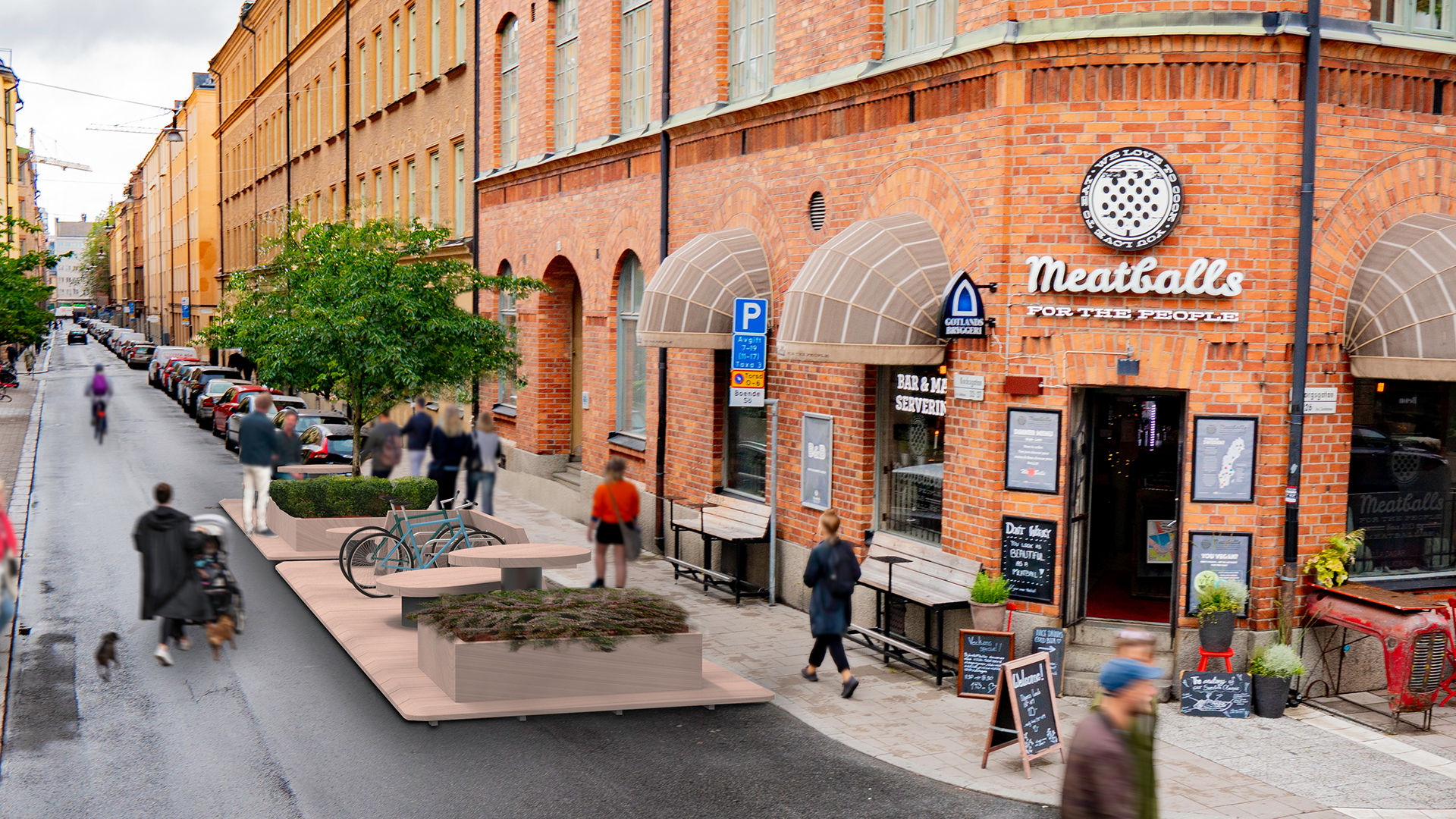 The concept of a 15-minute city, where everything you need for daily life is within a quarter of an hour walk of your front door, was already giving city planners something to think about before COVID-19 . But as neighbourhoods, and the people living in them, grappled with multiple lockdowns throughout 2020, the idea really gained traction.
Nowhere more so than in Paris, where the mayor, Anne Hidalgo, made it the centrepiece of her successful 2020 re-election campaign. Hidalgo's aim was to create self-sufficient communities throughout the city, where everything is a short walk or bike ride away.
In Sweden, they are tightening the time frame even further. A one-minute city pilot called Street Moves aims to "reclaim the streets" from cars by creating numerous pop-up public amenities, with the overall intention of giving the public a say in what's on their doorstep.
It is hoped the government-backed initiative will be picked up by municipalities across the whole country, but can such a hyper-local proposition really work on a national scale?
For Street Moves project manager, Daniel Byström, who works for ArkDes – the architecture and design think-tank leading the project – the pilot is trying to inspire new ways of approaching urban development rather than attempting to offer instant wholesale change.
"The ambition is to get a spread [of streets across Sweden], with different municipalities being able to make their own intervention," says Byström. "However, I think many of the municipalities in Sweden are not ready to do it themselves, so for me the central part of the project is not the physical outcome by itself, but more to showcase an approach for how we can work with urban planning, urban development and street development."
Under the plans, a kit of modular wooden street furniture has been designed, which can be slotted into an area the size of a car parking space. These kits have been designed to be flexible depending on the needs of the area – an important point in terms of scaling up the initiative, since it's not claiming to be a one-size-fits-all solution. Rather it aims to add genuine value to an area.
Five streets have been piloted since the project's launch last September, including three in Stockholm and one in both Helsingborg and Gothenburg, with more on the way.
So far, they have created new bench space, picnic tables, planters and e-scooter parking but Byström says this is just the beginning. "In the next step, we will look for more sophisticated solutions [based] around smart cities, such as infrastructure for charging electric cars and scooters."
He says the one-minute city initiative – which has been funded by Vinnova, the Swedish government's innovation agency – is also about giving the public more ownership over their streets, with residents being involved early on in the design process.
This resident involvement is getting positive results so far, with ArkDes claiming that 70% people surveyed about the Stockholm projects were positive. They also saw a 400% increase in the movement of people on the streets around each unit.
When coupled with the aftermath of COVID-19, this offers an exciting proposition to "reactivate" Sweden's streets and make cities more resilient and adaptable to change, Byström adds.
"One of the things that you can see, for example, with growing digitalisation and people working from everywhere, is open-air shared office space, so it could be anything and that is the beauty of this initiative."
The flexibility of the scheme could prove crucial when considering if this could be scaled up on a national level. Cities across Sweden will be looking for ways to bounce back in new and innovative ways after the pandemic and this could play an important role in that process. One-minute cities could also prove to be a crucial pillar in the success of Sweden's goal for 2030 that "every street in Sweden is healthy, sustainable and vibrant."
Our thanks to RICS for permission to republish this article which first appeared in Modus in July 2021.
---
Further reading: more from The Knowledge Exchange blog on urban areas